Construction - RED Brick Weather Station
It is possible to control the Weather Station without any external (Embedded-) PC by using a RED Brick mounted into the case. In this tutorial we well use a USB Power Supply to power the stack. It is also possible to power the stack with a Step-Down Power Supply together with a DC Jack Adapter to power the stack. For details about this see the Wi-Fi Weather Station construction section.
The RED Brick Weather Station is an extension of the basic version. You should build the basic version first and then modify it as described down below.
Stack on Backside
Just mount the stack consisting of RED Brick and Master Brick to the back side of the case.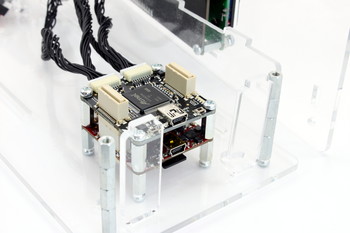 We can now mount the front of the case to the back again.