Starter Kit: Camera Slider
Note
The Starter Kit: Camera Slider is discontinued and is no longer sold.
Features
Programmable dolly and time-lapse shots
Easy to modify
Build your own brackets with MakerBeams
Extend functionality of kit with Bricks and Bricklets
Description
The Starter Kit: Camera Slider allows a automatic and fluid linear motion of photo- and video-cameras. With the provided demo application you can control the slider freely and make automatic time lapse shoots. An easy API can be used to integrate the camera slider into you own project. This means that the kit can be used as a general purpose axis for linear motion.
The kit is build from MakerBeams. Other Beams can be attached easily. This makes it easy to construct your own brackets that can hold other devices. This means that the kit can be used as a general purpose axis for linear motion.
A Stepper Brick moves the cart with millimeter precision and it can be extended with other Bricks and Bricklets. It is for example possible to automatically trigger the camera with a Industrial Quad Relay Bricklet. A RED Brick together with a HDMI touchscreen can be used to implement an autonomous solution that can be controlled via touchscreen.
The following video shows different applications und modifications:
Technical Specifications
| Property | Value |
| --- | --- |
| Motion Range | 70cm (extendable up to 275cm) |
| | |
| Dimensions (W x D x H) | 94 x 15 x 4cm (37 x 5.9 x 5.5") |
| Weight | 1,3kg |
Firmware updating and first tests
As a very first step you should try out and update your Bricks and Bricklets.
For that you need to install the Brick Daemon and the Brick Viewer. Connect the Remote Switch Bricklet to the Master Brick and connect it via USB to your PC. Afterwards use Brick Viewer to check if all of the firmwares are up to date (Updates / Flashing button). If not, you can update the Bricks and update the Bricklets with the Brick Viewer too: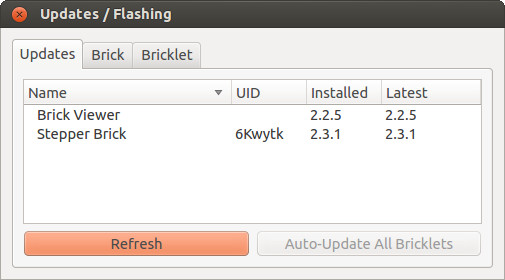 As the next step test the Stepper Brick with the included stepper motor and 24V power adapter as described here. After that you can start to assemble the kit!
Construction
The construction of the basic kit is described here.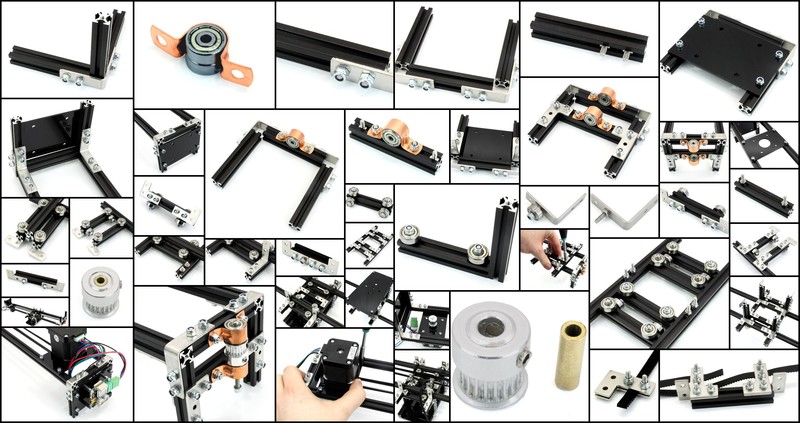 Instead of using 900mm MakerBeams you can use 1500mm MakerBeams or even connect two 1500mm MakerBeams to get up to 3m of motion range. How to modify the frame for this is described here.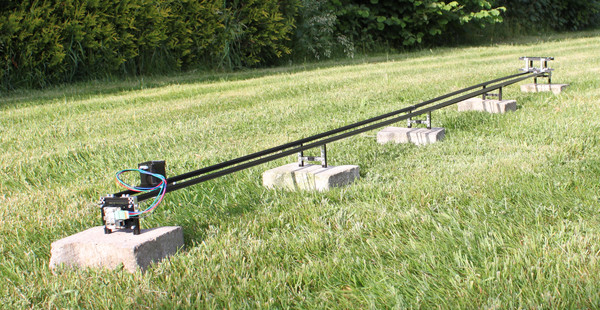 You can also use a RED Brick with an HDMI touchscreen instead of using an external PC to control the camera slider. How to add a RED Brick and a HDMI touchscreen to the frame is described here.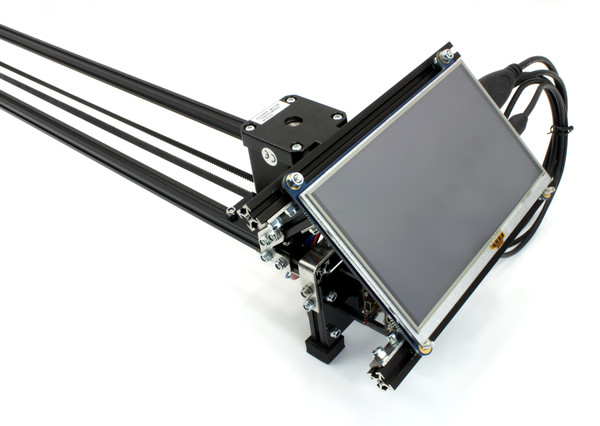 Demo Application
The demo application shows two possible uses cases for this kit:
Linear motion
Moving time-lapse photography
Before starting you have to configure the host and port. If the Stepper Brick is connected to your PC over USB then "localhost" and "4223" is fine. If you extended the kit with an Master Extension or if you connected the kit to another PC then you have to enter the IP address or hostname of the Extension or the other PC where the kit is connected to. Now click the "Connect" button to establish the connection.