Control by your own tablet, smart phone or PC
433MHz mains switches, dimmers and home automation components can be controlled through www.iot-remote.com without any programming. The web site uses JavaScript, which is directly executed by the browser. After the web site is loaded there is no communication between a server and the local device or the hardware that should be controlled. For offline usage the web site can be downloaded.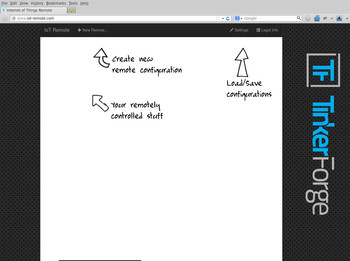 The web site is very easy to use. With "+ New Remote..." you can add new devices. There are four types: A (Switch), B (Switch), B (Dimmer), C (Switch). The types can be configured dependent on the actuators that will be controlled (see list of supported actuators).
Depending on the actuator there are different forms to fill. A precise description of the actuator types can be found in the documentation of the Remote Switch Bricklet 2.0.
Type A (Switch):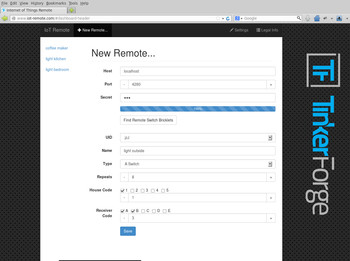 Type B (Switch):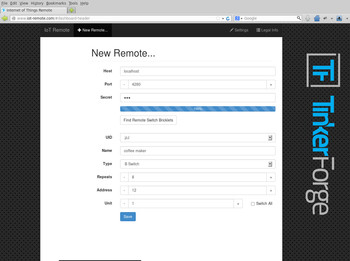 Type B (Dimmer):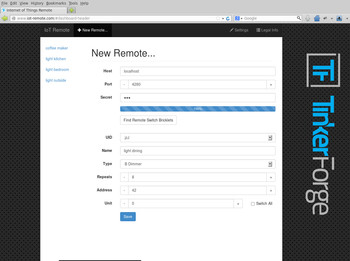 Type C (Switch):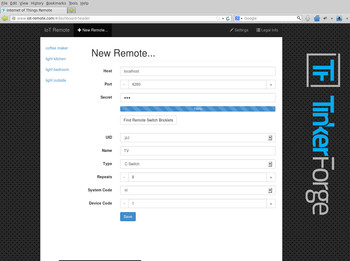 Controlling a device
Devices can be controlled by clicking on the appropriate entry in the list. In the following we have the controlling site of a type A switch.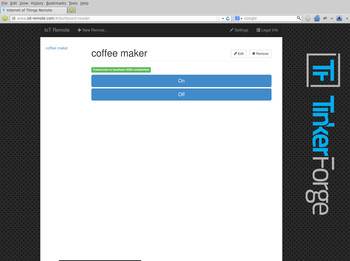 Save/Load configuration
The web site www.iot-remote.com does not have a log-in function. This keeps the site simple and to it is simple to start your own instance of the web site. The configuration is saved locally in the browser with a cookie, by default it is not transferred to a server. If you only use the web site from one browser this is good enough.
To use an already created configuration in different browsers it is possible to save the configuration on www.iot-remote.com and load it again in another browser.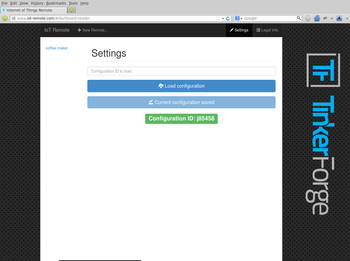 After a configuration is created it can be saved. You just have to click on "Settings" and then on "Save configuration". The server creates an configuration ID that represents the current configuration.
Loading a configuration can be done analogously. Just enter the configuration ID in the appropriate field and click on "Load configuration". Subsequently the devices that are saved by this ID are shown on the left.
Offline/Local usage
The complete web site can be downloaded (including the JavaScript) and used locally. After that it is not necessary to use www.iot-remote.com. The easiest way is to download the project from GitHub as a ZIP. The web site can be found in the "web" folder.
Unfortunately Chrome/Chromium does not support File-Cookies by default. Those are necessary to use cookies offline. To circumvent this problem you can start Chrome/Chromium with the following parameter:
If used locally, the web site can still use the www.iot-remote.com server to save/load configurations. It is however also easy to host the server yourself. You have to adjust the following source code parts:
web/js/remote/pages/PageSettings

:

this.HOST

,

this.PORT

as well as

server/server.py

:

CONFIGURATION_PATH

and

LOCAL_PROXY_PORT

.
The dependencies of the Python server are python-twisted and python-autobahn. The server can be started with Python:
It is as easy as that to host your own Internet of Things web server that can save configurations over WebSockets!