Description
The Hall Effect Bricklet extends Bricks and can detect the presence of magnetic fields. It counts the (dis-)appearances of magnetic fields and can for example be used to measure the speed of a wheel with attached magnet with up to 13Hz.
Example applications are:
Detect if a door is open or closed
Reading out water/electricity meters
Test your Hall Effect Bricklet
To test a Hall Effect Bricklet you need to have Brick Daemon and Brick Viewer installed. Brick Daemon acts as a proxy between the USB interface of the Bricks and the API bindings. Brick Viewer connects to Brick Daemon. It helps to figure out basic information about the connected Bricks and Bricklets and allows to test them.
Connect the Hall Effect Bricklet to a Brick with a Bricklet Cable.
If you connect the Brick to the PC over USB, you should see a new tab named "Hall Effect Bricklet" in the Brick Viewer after a moment. Select this tab. If everything went as expected you can now see the detection of a magnetic field. A magnet can be used to test the Bricklet by moving it near the Bricklet.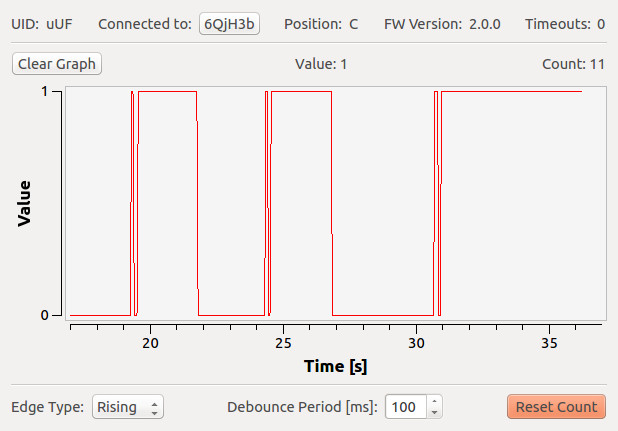 After this test you can go on with writing your own application. See the Programming Interface section for the API of the Hall Effect Bricklet and examples in different programming languages.