PTC Bricklet
Note
The PTC Bricklet is discontinued and is no longer sold. The Industrial PTC Bricklet is the recommended replacement.
Features
Supports Pt100 and Pt1000 sensors
Supports 2-wire, 3-wire and 4-wire type
Measures temperature with 0.05% accuracy at the full scale of -246 to 849°C
Resolution of 0.03125°C (15bit), output in 0.01°C steps
Description
The PTC Bricklet can be used to extend the features of Bricks by the capability to measure temperature with Pt100 and Pt1000 sensors.
Pt100 and Pt1000 sensors of 2-wire, 3-wire or 4-wire type can be used.
The measured temperature can be read out in °C. With configurable events it is possible to react on changing temperatures without polling.
Technical Specifications
| Property | Value |
| --- | --- |
| RTD-to-Digital Converter | MAX31865 |
| Current Consumption | 2mA |
| | |
| Supported Pt-Sensor Types | Pt100 and Pt1000 with 2-wire, 3-wire or 4-wire |
| Accuracy | min 0.05% full scale |
| Input Protection | +-50V |
| Temperature Resolution | 0.03125°C (15bit) |
| Conversion Time | 21ms |
| Fault Detection | Open RTD element, RTD value out-of-range, short across RTD |
| | |
| Dimensions (W x D x H) | 35 x 30 x 15mm (1.38 x 1.18 x 0.59") |
| Weight | 8g |
Resources
Jumper Configuration
Configure the jumper for Pt100/Pt1000 sensor and 2/3/4-wire type as shown below. The pins of the pin headers that are marked red have to be closed by a jumper for the corresponding sensor type.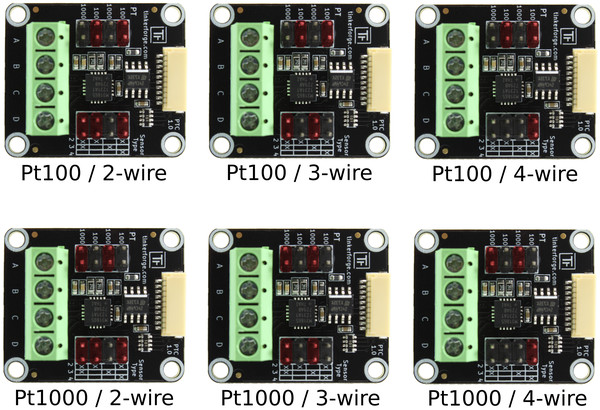 Connectivity
See below for connection diagrams for 2/3/4-wire type resistance temperature device.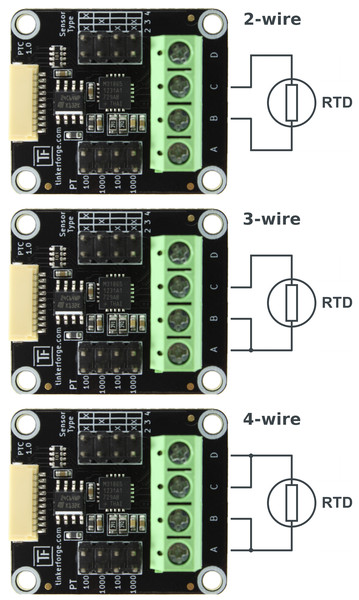 Additionally the number of wires has to be set with the API.
Test your PTC Bricklet
To test a PTC Bricklet you need to have Brick Daemon and Brick Viewer installed. Brick Daemon acts as a proxy between the USB interface of the Bricks and the API bindings. Brick Viewer connects to Brick Daemon. It helps to figure out basic information about the connected Bricks and Bricklets and allows to test them.
Connect the PTC Bricklet to a Brick with a Bricklet Cable and attach a Pt100/1000 sensor (see picture below). In this example we use a 3-wire Pt100 sensor.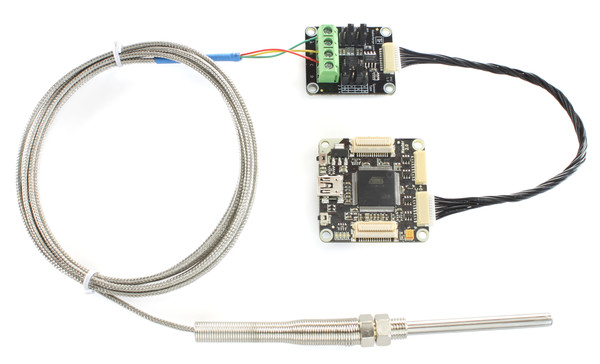 If you connect the Brick to the PC over USB, you should see a new tab named "PTC Bricklet" in the Brick Viewer after a moment. Select this tab. If everything went as expected the Brick Viewer should look as depicted below.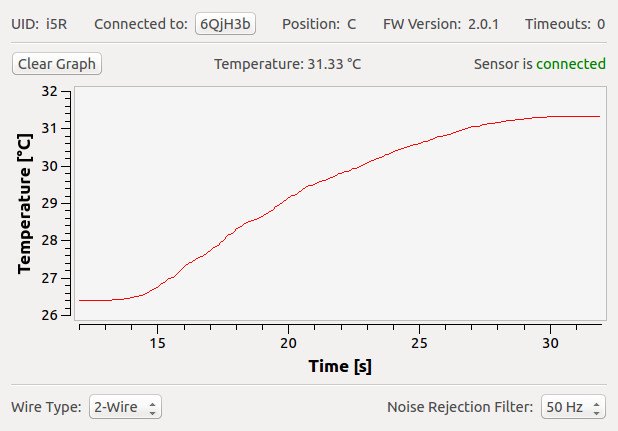 Put the sensor in your hand to see the temperature rising (or falling if it is extremely warm in your room).
After this test you can go on with writing your own application. See the Programming Interface section for the API of the PTC Bricklet and examples in different programming languages.
Case
A laser-cut case for the PTC Bricklet is available.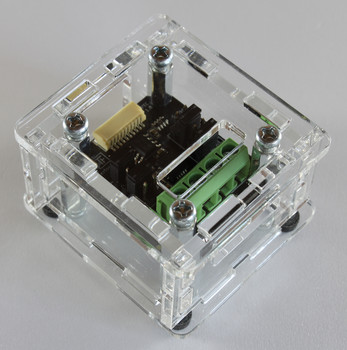 The assembly is easiest if you follow the following steps:
Screw spacers to the Bricklet,
screw bottom plate to bottom spacers,
build up side plates,
plug side plates into bottom plate and
screw top plate to top spacers.
Below you can see an exploded assembly drawing of the PTC Bricklet case: