We released the new RED Brick Image Version 1.4 today. It is super awesome, we highly recommend that you update!
The new features in the new image can be used with Brick Viewer Version >= 2.2.2.
Downloads: RED Brick Image 1.4, Brick Viewer 2.2.2
Services
Fast Image and the Full Image are merged into one image. The differences between these images, for example the start of a desktop environment, are implemented as services which can be independently activated. You can now turn services on and off with the Brick Viewer and switch back and forth between the Fast Image and the Full Image on the fly.
If you turn all of the services off (equivalent to the old Fast Image) the RED Brick will now boot incredibly fast! It only takes 10.7 seconds for the RED Brick to completely boot up and being available in Brick Viewer. To achieve this speed we had to switch from sysvinit to systemd, which proved to be a huge improvement!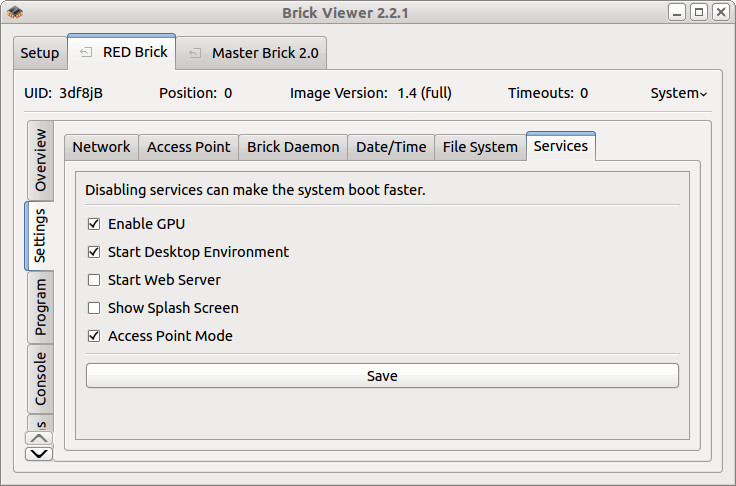 Import/Export
Additionally you can now import and export your programs from the RED Brick with the Brick Viewer. If you download the new Brick Viewer first, you can even export your programs from the old Image Version 1.3. Update the image afterwards and import your programs back again in Image Version 1.4! With this it will be really easy to update to new image versions.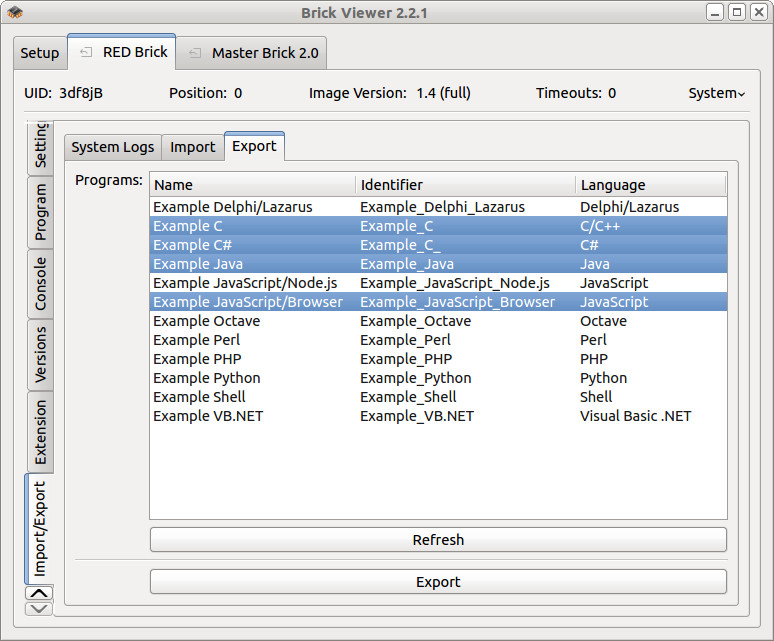 Access Point
If you have one of our WIFI USB Adapters there is another awesome feature. You will be able to turn the RED Brick into an Access Point with just a few clicks. You can then for example directly connect to the RED Brick web interface or to the Brick Daemon on your RED Brick with a smart phone or similar. No external network equipment needed!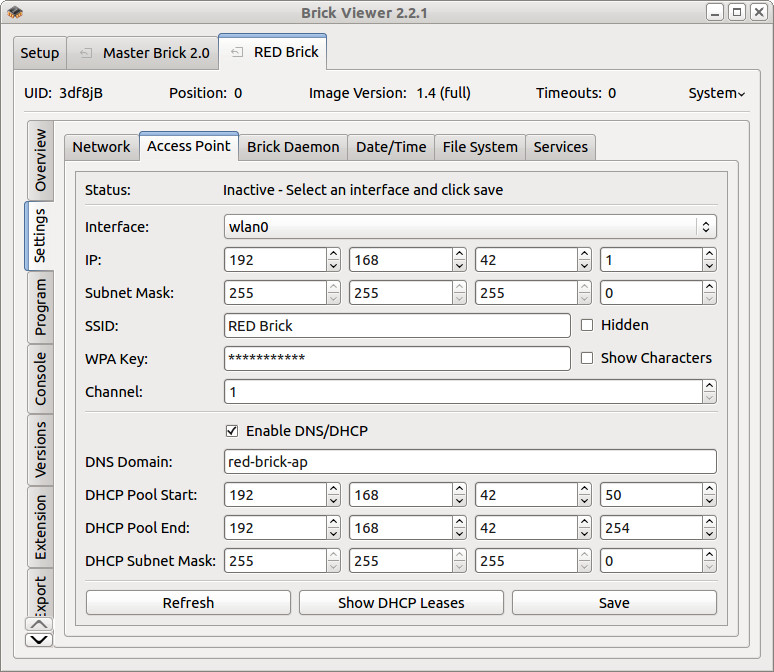 Since we got the feedback that some of the compilers and interpreters on the RED Brick are too old, we also switched from Debian Wheezy to Debian Jessie and removed the dependency to the Raspbian repository. For example Python is now available in version 3.4 instead of 3.2. This also means that hard to fix package dependency problems occurring because of incompatibilities between the Debian wheezy and the Raspbian repository are now gone! You will now be able to apt-get anything from the Debian repositories without doing any harm ;-).