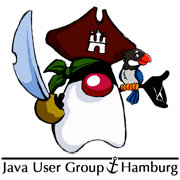 There will be a whole series of events about "Tinkerforge and IoT" in different cities of Germany and around the World in the coming months. The first event will be on the 7th of July in Hamburg. The series of events is called LiveHacking and will be managed by Sven Ruppert. You can attend for free, a description can be found here (German).
Sven works for the Codecentric AG and does lots of lectures at Java User Groups (JUGs) and he writes for Jaxenter and EclipseMagazin. Currently he is engaged in "Internet of Things". While searching for appropriate hardware for his events he found the Tinkerforge building blocks, which he will use to familiarize people with Java8 in the context of IoT.
Bastian (from Tinkerforge) will also be present at the event in Hamburg, which is unfortunately already booked out. More LiveHackings are however planned.