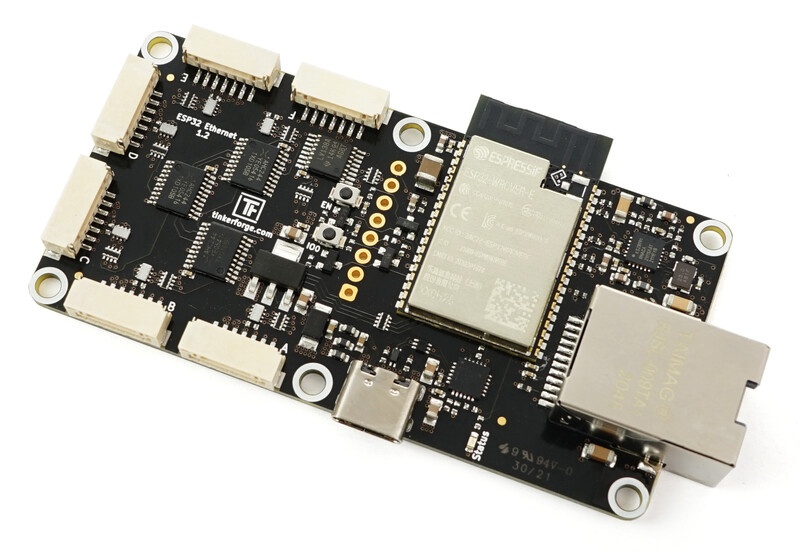 We are using the ESP32 Brick and the ESP32 Ethernet Brick for our WARP Charger for a long time now. The WARP Charger (generation 1) uses the ESP32 Brick as the central control unit, while the current generation of WARP2 Charger use the ESP32 Ethernet Brick.
Starting today these Bricks are now also officially part of the Tinkerforge building blocks, i.e. you can use the new Bricks for your own projects!
What are the ESP32 Brick and ESP32 Ethernet Brick?
The ESP32 is a powerful microcontroller platform. It integrates WIFI (802.11b/g/n) and Bluetooth (V4.2 BR/EDR, BLE). It has two CPU cores that each run with 240 MHz and it has 448KB ROM, 520KB SRAM as well as 16MB flash. Both new Bricks each have six connectors for Bricklets. Power can be supplied through a USB-C connector that is also used for firmware flashing. To make this possible the Brick integrates a USB to serial converter, which means that USB can also be used for debugging through the serial interface. Additionally we offer an optional power supply that can be stacked on top of the Brick. It supports an input voltage of up to 27V. As you might have guessed from the name: The ESP32 Ethernet Brick has an additional Ethernet interface compared to the ESP32 Brick.
What is the intended application for the new Bricks?
The ESP32 (Ethernet) Brick can be used in two ways: In the delivery condition the Brick is flashed with a standard firmware. This firmware creates a WIFI access point that can be used to reach be Brick through a web interface. With the ESP32 Ethernet Brick the web interface is also reachable via LAN (DHCP). The web interface can be used to configure the brick, for example to connect to your own WIFI. The standard firmware comes with the proxy mode enabled. With the proxy mode it is possible to control the connected Bricklets through our normal API Bindings. This means you can also connect to the Brick with the Brick Viewer. In this mode the Brick behaves similar to a Master Brick together with a WIFI/Ethernet Extension.
Of course you can also use the ESP32 (Ethernet) Brick as a development platform for your own software that runs stand-alone on the ESP32.
To do this you can use the standard ESP32 development tools. The ESP32 is a widespread platform that has lots of libraries and support for many development environments. To use our Bricklets we offer the C/C++ API Bindings for microcontroller. Additionally you use our standard firmware as a starting point. It is build from many different software modules that can be extended. This means you can use the web interface and all of its configuration pages together with your own sub-pages and the proxy mode at the same time!