Today the Hannover Messe starts (25th to 29th April). While we are not there ourselves, you will still be able to find some of our products in Hannover at the booth of Volavis GmbH (hall 6, booth K46).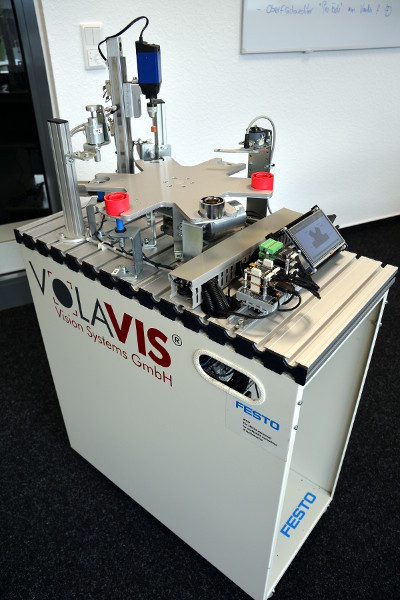 The setup consists of lots of Industrial Bricklets that switch valves as well as a RED Brick. The latter provides the control software as well as a user interface that that is shown on a HDMI display with touch. The mini production plant simulates different fabrication steps including the inspection of work pieces and polishing.
Volavis is a cross-sector software service provider with know-how in the development of web applications, embedded software and mobile applications. At the trade faire they are showing "Internet of Things" solutions. They retrofitted an old demonstration production plant with Tinkerforge hardware to make it suitable for "Industrie 4.0″ applications. The machine is now connected to cloud software, it can be controlled from a tablet and production processes can be analyzed online.