Thank you for all of the orders! The announcement of the RED on last Friday and the articles from Golem and Heise (German) did lead to a rather large shipping backlog.
All currently open orders will be shipped this week. Generally we will be shipping up until December 23rd.
We did prepare very well this time, but could nevertheless not keep pace with the orders. Currently we are working at full speed to process the backlog. Thank you for your patience!
Since we frequently got this question: We will ship up until (including) December 23rd. So you do have some more time left to order if you want Bricks and Bricklets underneath your Christmas tree. If you order from outside of Germany, the only shipping option that can guarantee a shipment before Christmas is FedEx. Orders with DHL or Deutsche Post as shipping option may not arrive before Christmas.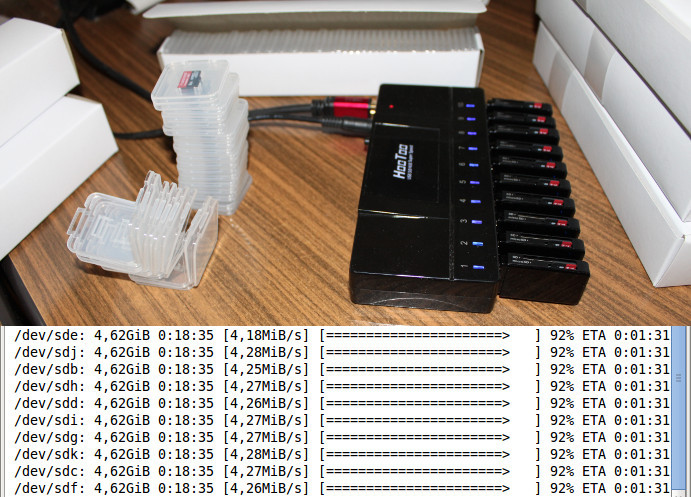 One of our tasks is to flash the ordered SD cards. You can take a look at our flashing setup in the image above. It uses a USB 3.0 hubs with 10 USB 3.0 card-readers each. This setup is currently running around the clock.
HDMI cables and some of the cases will be delivered subsequently.
Edit: Miraculously, new plastic arrived already today. So there won't be a shortage of cases!
In beforehand we did speculate about the composition of the orders. One question was, how many accessories will be bought together with the RED Brick on average. We did misjudge the amount of necessary HDMI cables. We estimated an order rate of 25%, but in reality about 85% of all RED Brick orders include an HDMI cable. We already ordered new HDMI cables, but our supplier also seems to have a backlog. We do have a similar problem with our cases. Our laser cutter, that is used to cut the cases, is also in continuous operation. Our former big stock of plastic is drawing to a close and new plastic will not arrive before Christmas. We likely won't have enough plastic here to produce all of the necessary cases. So we have to deliver some of them subsequently.
Don't panic if your package is missing an HDMI cable or a case, they will be delivered separately as soon as possible (see delivery note)!