A short story what happens behind the scene:
It should not happen that a product is out of stock. In case of the Stepper Brick it unfortunately happend because of a big bulk order. Of course we immediately ordered all of the necessary parts and arranged a production date with our supplier. We ordered the PCBs from a new supplier with a lead time of three weeks.
The manufacturer did not have experience with the black solder resist that we use on our PCBs, but they assured us that the production would be no problem. After many phone calls and clarification of many details the PCBs were put in production.
At the day of delivery we got a call that our PCBs were shipped but that there is a problem with the silkscreen. It was yellow on the bottom side of the panel. We inspected the panels and it turned out that the silkscreen got brown after a pass through the reflow process. Besides this "optical" problem there was a problem with the surface of the bottom side. The pads are not flat enough, such that we would have to expect lots of soldering problems after the reflow process. A rework afterwards by hand was not up for debate. It would not be feasible with the expected problem occurrence.
All in all this means that we can not use the panels.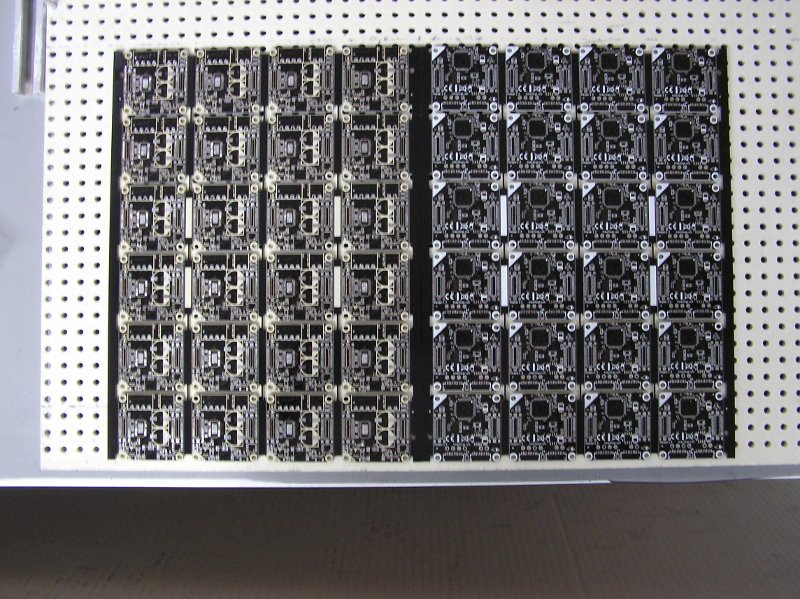 We ordered new PCBs from another supplier that has experience with the production of black PCBs, so we can be confident that these will work.
We have to apologize for the long waiting times for the Stepper Bricks. The new Stepper Bricks can be shipped around mid May. Of course we will do our best to ship them earlier.
Many thanks for your understanding!