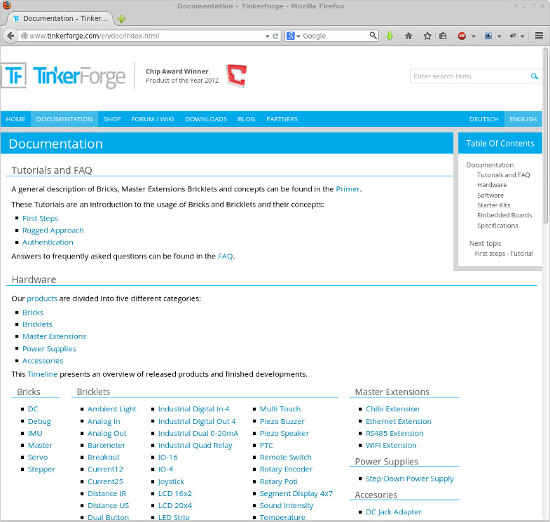 Documentation
We have revised the Tinkerforge documentation. A newly created Primer should give an overview over Bricks, Bricklets, Master Extensions and the concepts behind the system of Tinkerforge building blocks.
While doing this we also overhauled each product page. Most likely something has gone wrong somewhere during this process (broken links etc). Please contact us if you find dead or wrong links. Thanks!
Kits
The compilation of modules in the Education and Tinker Kits has been been improved:
The Education Kit is intended to be used in education. We didn't modify the kit for a long time. The number of Bricklets which can be used directly, without any custom external hardware, has grown. We revised the kit with this in mind. For example we have replaced the IO-16 Bricklet, where buttons and LEDs can be attached, by Bricklets such as the Motion Detector Bricklet or Multi Touch Bricklet. The new Kit permits a bigger number of projects that can be created only by sticking the modules together.
The Tinker Kit is intended to provide the hardware for nearly any imaginable project. This kit also was not revised for a long time, such that the question came up which new modules should be put in the kit and which to remove. We have decided to put everything in the kit. In this kit each Tinkerforge module is now included at least once. Exactly the right kit for those who need a collection of parts and do not know what future projects will bring.
RED Brick
Things are going well with the RED Brick. Next week we will give you more information about the current status.