Description
The RGB LED Bricklet 2.0 can be used to extend the features of Bricks with the capability to control a RGB LED. Each of the three channels (red, green, blue) can be controlled individually with 8 bit resolution.
The luminance output of the LED is corrected for human light perception with accordance to CIE 1931. This means that for every color a fade from off to full brightness (value 0 to 255) will appear to be a smooth color gradient to the human eye.
Test your RGB LED Bricklet 2.0
To test a RGB LED Bricklet 2.0 you need to have Brick Daemon and Brick Viewer installed. Brick Daemon acts as a proxy between the USB interface of the Bricks and the API bindings. Brick Viewer connects to Brick Daemon. It helps to figure out basic information about the connected Bricks and Bricklets and allows to test them.
Connect the RGB LED Bricklet 2.0 to a Brick with a Bricklet Cable.
If you connect the Brick to the PC over USB, you should see a new tab named "RGB LED Bricklet 2.0" in the Brick Viewer after a moment. Select this tab. If everything went as expected you can now control the RGB LED color with different sliders: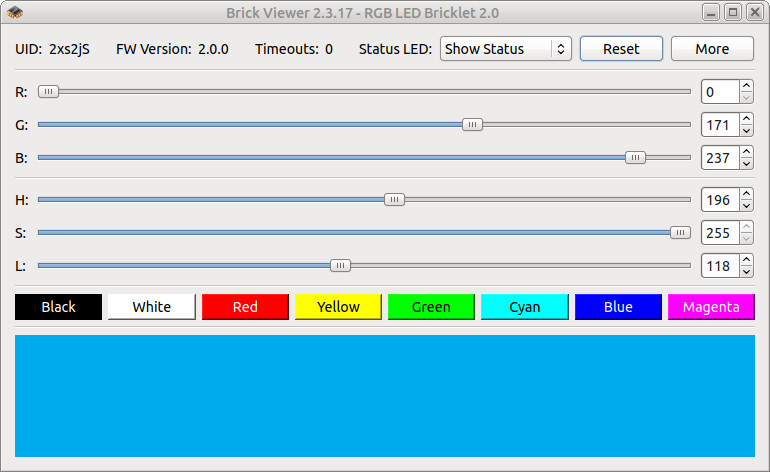 After this test you can go on with writing your own application. See the Programming Interface section for the API of the RGB LED Bricklet 2.0 and examples in different programming languages.