RS232 Bricklet
Note
The RS232 Bricklet is discontinued. We are selling our remaining stock. The RS232 Bricklet 2.0 is the recommended replacement.
Features
Sends and receives serial data
Provides RS-232 and UART-TTL interface
Configurable baudrate, parity, stop bits, word length and flow control
Description
The RS232 Bricklet can be used to extend the features of Bricks by the capability to send and receive serial data with RS-232 and 3.3V TTL signal level to communicate with other serial devices.
Technical Specifications
| Property | Value |
| --- | --- |
| Current Consumption | 25mW (5mA at 5V, idle) |
| | |
| Baudrate | 300 - 230400baud |
| Parity | none / odd / even / forced 1 / forced 0 |
| Stop bits | 1 / 2 |
| Word length | 5 / 6 / 7 / 8 |
| Flow control | Software / Hardware / none |
| | |
| Dimensions (W x D x H) | 45 x 35 x 17mm (1.77 x 1.38 x 0.67") |
| Weight | 18g |
Resources
Connectivity
The RS232 Bricklet provides three different ways to connect to other serial devices: classic D-Sub 9 (male) connector, 5-way terminal block or 5-way pin header. But only one of these connectors can be used at the same time.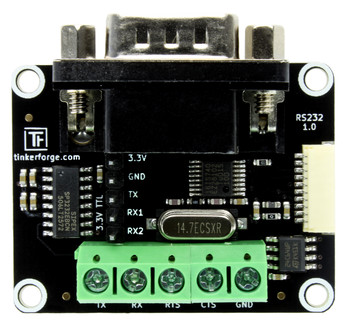 D-Sub 9 Connector
The D-Sub 9 (male) connector uses the RS-232 signal level. To use this connector the RX1 and RX2 pins on the pin header have to be connected by a jumper.
The connector uses the following part of standard RS-232 pinout:
| Pin | Function | |
| --- | --- | --- |
| 2 | Received data | RX |
| 3 | Transmitted data | TX |
| 5 | Ground | GND |
| 7 | Request to send | RTS |
| 8 | Clear to send | CTS |
Terminal Block
The 5-way terminal block provides the same five RS-232 signals (RX, TX, RTS, CTS and GND) as the D-Sub 9 connector with the same RS-232 signal level. To use this connector the RX1 and RX2 pins on the pin header have to be connected by a jumper.
Test your RS232 Bricklet
To test a RS232 Bricklet you need to have Brick Daemon and Brick Viewer installed. Brick Daemon acts as a proxy between the USB interface of the Bricks and the API bindings. Brick Viewer connects to Brick Daemon. It helps to figure out basic information about the connected Bricks and Bricklets and allows to test them.
Connect the RS232 Bricklet to a Brick with a Bricklet Cable. Connect the RX1 and TX pins with a jumper to make the Bricklet read back its own output.
If you connect the Brick to the PC over USB, you should see a new tab named "RS232 Bricklet" in the Brick Viewer after a moment. Select this tab. If everything went as expected you can now type some text into the input editbox and hit enter. The same text should then show up in the textarea above.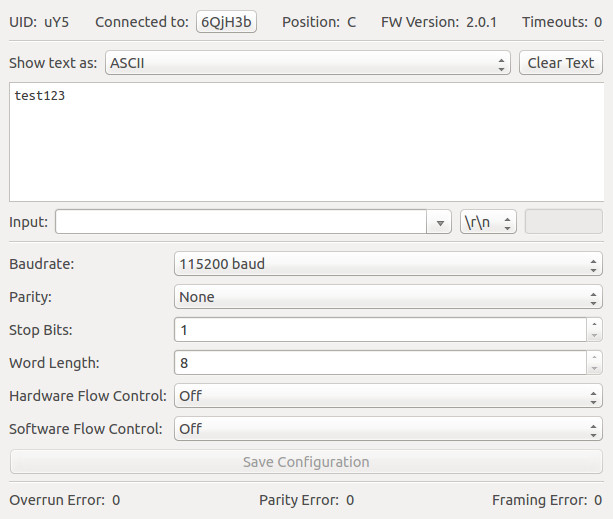 After this test you can go on with writing your own application. See the Programming Interface section for the API of the RS232 Bricklet and examples in different programming languages.
Case
A laser-cut case for the RS232 Bricklet is available.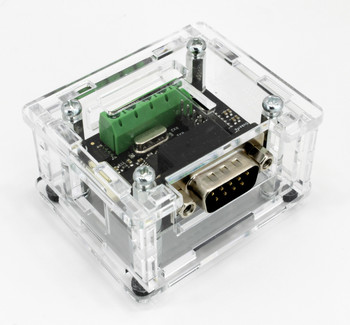 The assembly is easiest if you follow the following steps:
Screw spacers to the Bricklet with a washer on top of each mounting hole,
screw top plate to top spacers,
build up side plates,
plug side plates into top plate and
screw bottom plate to bottom spacers.
Below you can see an exploded assembly drawing of the RS232 Bricklet case: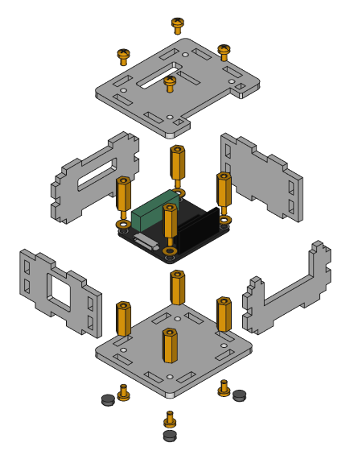 Hint: There is a protective film on both sides of the plates, you have to remove it before assembly.